Document from PrairieQueens.com
Click on the thumbnail photo to get the full images. Transcript is typed below.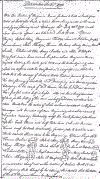 December 2, 1796
Washington County Courthouse, Springfield, Kentucky
Orders AA - A - B, Page 208
On the Petition of Benjamin Brown for leave to build a water grist mill on Cartrights Creek, a report thereon being made in the words and figures following to wit
"Washington St July 23rd 1796, We who have hereunto affixed our hands and Seals (to wit) Ephraim Payton, Robert Alvey, Benjamin Phillips, Samuel Robertson, Joseph Corvenhoven, John Phillips, Thomas Orsbern, Henry Boone, Basil Smith, Elisha McEtee, Henry Jarboe, and John P Blanford being first sworn have viewed the places where Benjamin Brown proposes building his water grist mill and the lands adjoining above which we suppose will be overflowed and are of Opinion that it will be to the damage of Richard Beale thirteen pounds by reason of the overflowing of the lands and Damaging said Beales sugartrees belonging to his camp if said Brown builds his Dam no more than four feet and a half in height. Also we have laid of one acre of land for the butting of the dam one half of said acre we allow to be over Beals line the value of which we have considered in the former damages and bounded as follows. Beginning at a white walnut & sugartree running Eastwardly across the Creek fourteen poles thence up the Creek Eleven and half Poles to an Ash and Ironwood thence across the Creek westwardly fourteen poles to a white and black walnut thence down to the Beginning. Ephraim Payton, Thomas Orsbern, Robert Alvey, Henry Boone, Benj. Phillips, Basil Smith, Samuel Robertson, Elisha McEtee, Joseph Corvenhoven, Henry Jarboe, John Phillips, John P. Blanford, Teste Jas. Horton."
On consideration whereof and on the motion of Richard Beall (to whom the adjoining land belongs) by his attorney, It is ordered that the Petition of the said Benjamin Brown be dismissed.
This page was last updated on 03/28/04 07:48 PM