Document from PrairieQueens.com
Click on the thumbnail photo to get the full images. Transcript is typed below.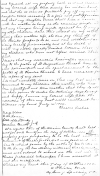 Buried in St. Augustine Cemetery, Lebanon, KY
October 3, 1904
Marion County Courthouse, Lebanon, Kentucky
Will Book 2, Page 308
I Charles Jarboe being of sound mind and disposing memory do make and declare this my last will and testament.
I desire that all my just debts to be paid. I give and bequeath all my property both real and personal to my beloved wife Alice during her widowhood, and that she as soon as practicable pay off my married daughter Nellie [Mary Eleanor Mackin] according to a fair and just appraisment and that my daughter Teresa shall have a home with her mother so long as she remains single without any charges being made against her. If any of my other children desire their interest in my estate during their mother's life, she can pay them off if she thinks proper to do so, and can without embarrising herself financially; and at her death I wish my estate equally divided between those of my children who have not before received their part.
I desire that my executrix hereinafter named pay to the pastor of St. Augustine's church twenty five dollars ($25.00) and an equal amount to the pastor of St. Charles Church to have masses for the repose of my soul.
I do most earnestly desire in this my last will to commend to my children their mother, who has been a faithful and true mother that they do all in their power to render her declining days peaceful and happy. I name my beloved wife Alice the executrix of this my last will without bond.
Witness my hand July 14, 1904
Charles Jarboe
Witness:
George Elder
E. M. Roney
State of Kentucky, Marion County
At a regular term of the Marion County Court held in and for said County on the 3rd day of October 1904 the foregoing paper purporting to be the last will and testament of Charles Jarboe, dec'd, was produced in open Court and proven by the oaths of Geo. Elder and E. M. Roney the two attesting witnesses thereto, and same was ordered to record as the last will and testament of Charles Jarboe, dec'd. Whereupon I have recorded it and this certificate.
Witness my hand this 7th day of October 1904
A. P. Carter, Clerk
By Sam J. Spalding, D. C.
This page was last updated on 03/28/04 07:48 PM